Write a detailed research proposal
Write a detailed research proposal.Minimum of 4 full pages of text. A fully fleshed out Introduction.The foundational aspects of the literature review.Here, work out the possible subsections (pulling heavily from the direction you took in your bibliography project) Work these out from the literature you've already found. Go from just the annotations you've supplied into assembling them together for a specific purpose and point.
1.Introduction
The introduction will serve to introduce the topic and idea to your audience (i.e. me). In this case, you need to construct an introduction that motivates an interest in the topic as well as introduces the basic necessities of understanding to your reader. To that end, your introduction should focus primarily on your issue of interest (the pay gap, for example).
Make sure there is a clear thesis of what your overall paper is as well as the research question you're attempting to answer.
It should give some insight into the components that underlie that issue (define it, give a bit of history on it, and also present basic statistics for it, which you can obtain through places like newspaper articles or research organizations like Pew).
Remember: the introduction motivates the reader to want to know more, so it needs to stay focused on the issue that you want to address. If you have an annual review article, it can give you some great basic details for your introduction.
As such, you should enter in with a specific claim or point. Don't go so broad as "Since the beginning of time" because… no. Rather, you want it to be something that is clear and direct. "Determining why people buy what they buy has been a core concern of economic theorizing." Note the differences. From there, you would want some general, broader points such as "Americans spend approximately ### billion dollars a year on grocery shopping" or something else that is tied into your specific claims and topic. Obviously, make sure you cite these claims. Work down in this fashion allows your introduction to go from your broader point/interest down into the specific manifestations of what you'll be arguing, which thesis will explicitly articulate.
2.Literature Review
For your literature review, you must use a minimum of 10 peer-reviewed, academic research articles. The literature review serves to fine tune your point further and helps you to focus on where you are most specifically interested, namely the key concepts, factors, and variables that you think influence the problem you are trying to understand.
You need to work through your idea here about what you identify as happening. This works to take what you're interested in and give insight into how it's complex. So, make sure your literature review discusses what influences you're interested.
For example, say you were interested in the voting behaviors of people. Your literature review would note what influences people to vote and why. So, you'd most likely have some discussion of how and why race influences voter preference, as well as some discussion of some things like gender, income, etc. That way your reader understands the complexity of the issue, but keep in mind your major focus.
For this section, you're welcome to break it down into subsections. For example, if you're doing a study of food consumption patterns and the changing nature of diets being influenced by pop culture, you could have subsections regarding vegetarianism/veganism, gluten-free, paleo, etc. (Or, if you're more interested in how food trends are mediated by demographics, you could use subsections like Racial Variation in Food Consumption, Gendered Nature of Food Consumption, etc.)
Notice how the above sections allow you to deal with a variety of information while implicitly helping you with flow: when you break things down into subsections, there should be logical consistency but a little break between them is okay (though still work to give and maintain flow).
Please provide introduction and literature review based on files i uploaded. USE THE LITERATURE IN THE FILE "AB".
Answer preview: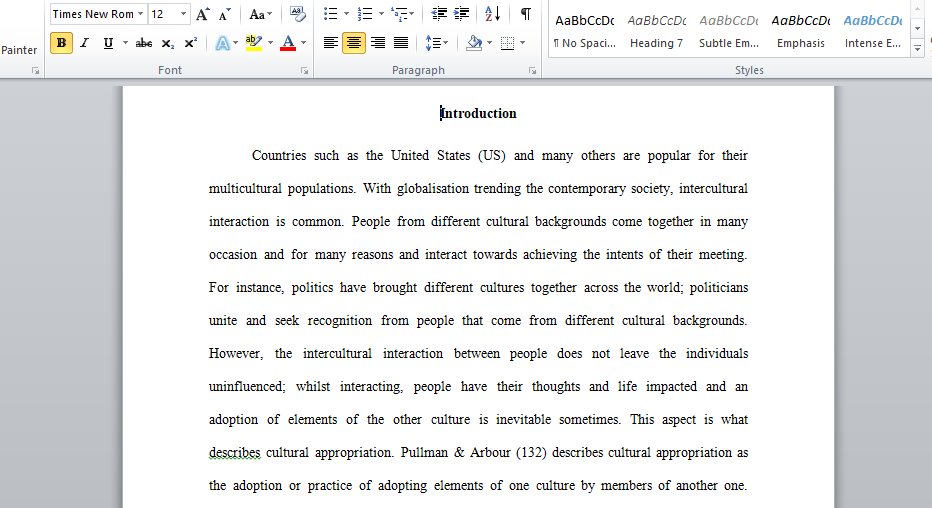 Words:1146