The Analysis of 'How to Raise Great Kids' Advert
The Analysis of 'How to Raise Great Kids' Advert.For this assignment, you will analyze an advertisement using either Dorothy Smith's article "The Standard North American Family," Stephanie Cootz's article "The Way We Weren't," or one of the theories detailed in
the chapter "Theorizing and Researching Family" in Continuity and Innovation. This project is intended to familiarize students with media-based content analysis in preparation for the
"Marketing and Family Essay" that is due November 19th . Students must find 1 advertisement (from a magazine, youtube, google etc.), that is no more then 10 years old, to analyze. You will identify one key issue or aspect of the ad to analyze.
All chosen advertisements must be confirmed by me, preferably within tutorial or alternatively over email. Using one of the three course readings named above, you will explain what the sociological significance of this key aspect is. I.e., what might sociologists of the family say about this advertisement? For example, you could identify that all the people in the ad are Anglo-Saxon white. Drawing on the insights of
your chosen chapter/article, tell me what the relevance of this is? What notion of family does it promote? How could this be harmful to black, brown, indigenous, or Asian families? You may find that your ad represents stereotypical gender roles about women and men. What kind of ideas does
this promote about women's and men's responsibilities within the family? How might this be harmful to women's (and potentially men's) lives?
Is the family in your ad made up of one ciswoman (mother/wife), one cisman (husband/father), and theirchildren? If so, what kind of implications may this have on LGBTQ+ families that do not "match up" with this model?
In short, I want you to use course material to tell me what your advertisement says about (Western) families. This is a short assignment (min. half a page, max. 1.5 pages, double-spaced). Therefore, the challenge of this project is to be precise and direct; all of the advertisements engender multiple notions of family that can be critically deconstructed and analyzed using material from this course, but you must choose a specific concern to
properly and thoughtfully address. You must define and properly cite any and all theories or concepts you use. The definition(s) you provide should be clearly related to your analysis; for example, if your definition of "gender roles" includes the fact that they help to maintain an unequal division of labour within the family, then you must follow it with an explanation of how and why your ad promotes beliefs that help to uphold an unequal
gendered division of labour within the family.
I DO NOT accept digital copies of assignments. I expect a hard copy to be handed in at the beginning of tutorials. The project is due, in tutorial, September 24th . I highly recommend you complete this activity; I will use your response for this assignment to: 1) provide you
with specific and detailed comments about your writing, and: 2) to help prepare you and give you feedback for your Marketing and Family Essay.
Answer preview: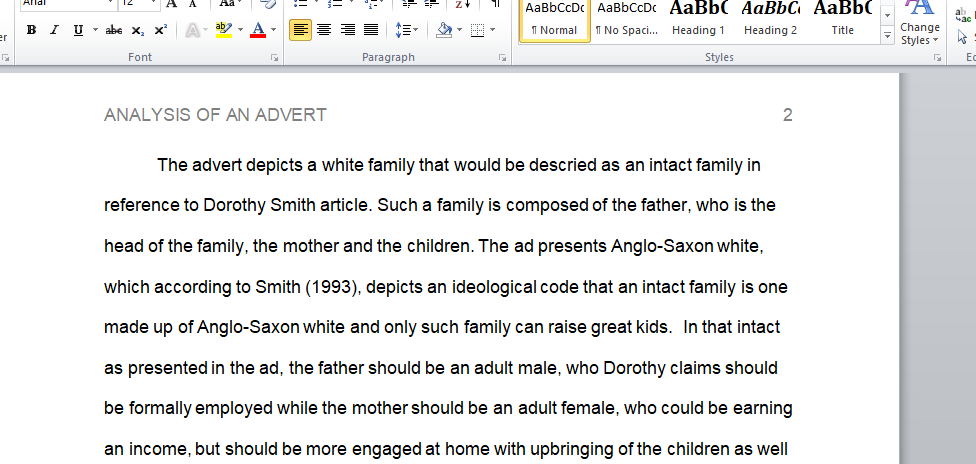 Words:456