Clinical Scenarios, Chapter 9, Ethical Aspects of Gerontological
Nursing
Scotty Story is 69 years old. Scotty is currently suffering from end-stage kidney
failure. Scotty has been living at home with his wife of 36 years. He has been
receiving dialysis for the past 2 years, three times a week. Scotty has obtained an
infection in his dialysis port, and his vitals are steadily decreasing. His family is at
his bedside around the clock. (Learning Objectives 2 and 4.)
1. What if…You are struggling with letting Scotty pass? You want the physician
to do whatever is possible to help Scotty survive. How can you look past this
and accept Scotty's wishes?
2. What if…The physician you are dealing with gives you an order to give 1 mg
of morphine every 15 minutes for pain? While assessing your patient, you
count Scotty's respirations; the count is only 5. Morphine should be held for
respirations less than 12. The physician states to give the morphine,
regardless of the respirations. What should you do to protect yourself and
the patient?
3. What if…Scotty's family decides, at the last minute, to bring Scotty back,
against his wishes? What can you do to help Scotty?
4. What if…You are faced with an ethical dilemma associated with your nursing
practice? What measures can you put in place to help minimize your
struggles to make an ethically sound decision?
APA
Answer preview: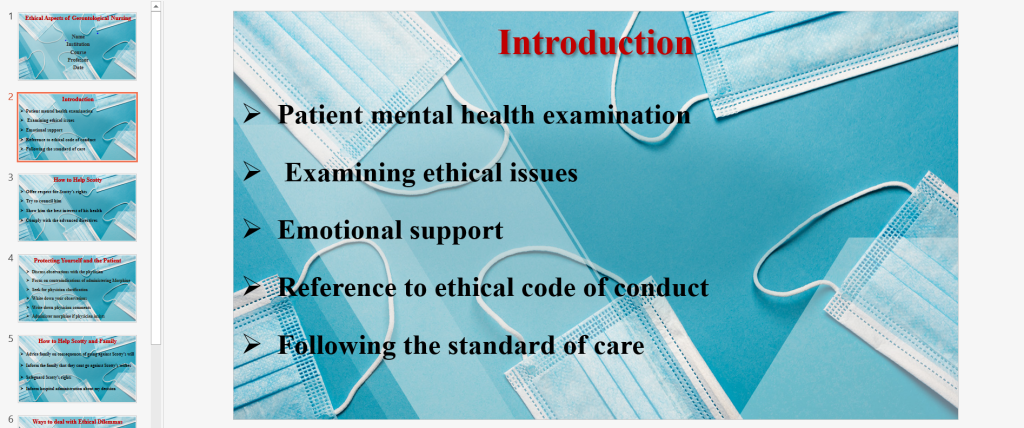 Get instant access to the full solution from www.essaycounter.com by clicking the purchase button below.
words limit:8 slides