Describe the Dynamics of practice
Describe the Dynamics of practice on Family/Significant others Wife, Gloria, 80 years old. Two adult sons living nearby.Hobbies:Gardening, football Harold is reviewed by the cardiology registrar Tara Line, and she notices that he is drowsy, drooling, and is having difficulty speaking, and she recalls that last night, he was alert and mobile. Harold is now not orientated to time, person or place but he is able to follow simple commands; he smiles and lifts his left hand when asked to do so.Harold's observations are stable. On examination it is noted that there are brisk reflexes and increased tone in his right arm, but he is unable to move it. Harold's left arm tone, movement and reflexes are normal. Dr Line orders repeat Troponin level to rule out a myocardial infarction, and also a CT scan of the head.Dr Line refers Harold to speech pathology and orders are for 'nil by mouth' until he has been seen. Nursing staff start two hourly neurological observations.
That afternoon Harold has a CT scan and it shows an intracerebral haemorrhage (ICH) around the left basal ganglia. Dr Line discusses these findings with the neurosurgical registrar Sam Park who believes that surgical intervention is not indicated at present. Harold will be managed conservatively.
Harold is also reviewed by both Trung the occupational therapist (OT) and Rosa the physiotherapist (PT). Information regarding positioning of Harold is placed above his bed head, and he is supplied with a beanbag pillow for his right arm.
Day 3
Harold has deteriorated and is not very responsive; he has had three seizures overnight and is now on oxygen at 2 litres per minute.
Neurological observations are being taken hourly now and remain stable.The medical team have made Harold 'for comfort care' at this stage.
The speech pathologist Stephie Ridge visits Harold and her assessment is that he is not suitable for oral trials. She will review him again tomorrow to see if his condition has improved. Harold continues to be 'nil by mouth' with oral care.
Day7
Harold seems less drowsy and is now able to be roused by voice and touch at times. His wife, Gloria visits him every day and sits by his bed.
A nasogastric (NG) tube was inserted and overnight feeding is to be commenced. The dietitian, Melinda Slate,reviews Harold. Harold is more alert and is attempting to talk. He has been sitting out of bed in a chair. Two people are needed to assist with the transfer, and the lifting machine is also used.
Answer preview: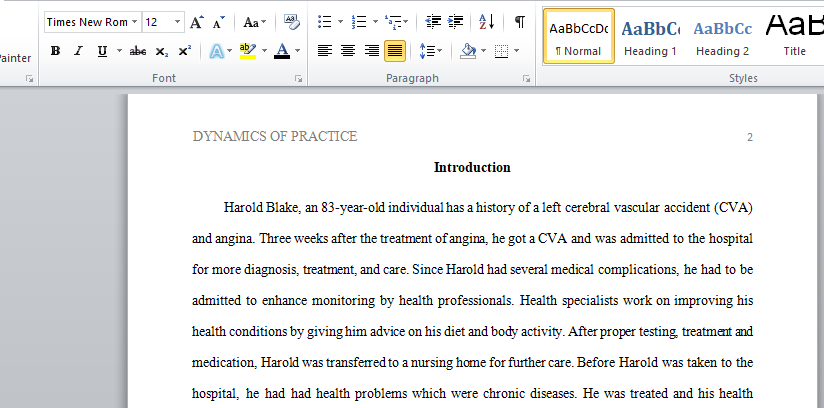 Words: 3,453