write a Reflective Journal
Write a reflective journal. For this assignment you are required to keep a reflective journal for the course of the Trimester. You will keep this journal in the form of a Word document, which will ultimately be uploaded for assessment at the end of the Trimester.
What is a reflective journal? 
Your journal should be a reflective document that provides personal, thoughtful analysis of and responses to your experience of the learning materials in this Unit.
For more information about reflective journal writing, please see the following resources:
What is required?
You must submit a journal document with FIVE (5) reflective entries on FIVE (5) different Modules throughout the course of the trimester. Each entry must be no more than 500 words in length. You should make regular entries to your journal. This way, you can revise your entries throughout the trimester up until the due date of the assessment task. You may set the journal out in whatever format you wish, so long as each separate entry is distinct. When your journal is complete, you should submit it below for marking.
The five modules I have chosen are;
Module 2: The Rural and Regional Lawyer = 500 words
Module 3 : Rural Client Care = 500 words
Module 4 : Rural & Regional Practice = 500 words
Module 5 : Ethics & The Rural and regional Lawyer
Module 6 : Innovation & Entrepreneurship in Rural & Regional Legal Practice
Answer preview: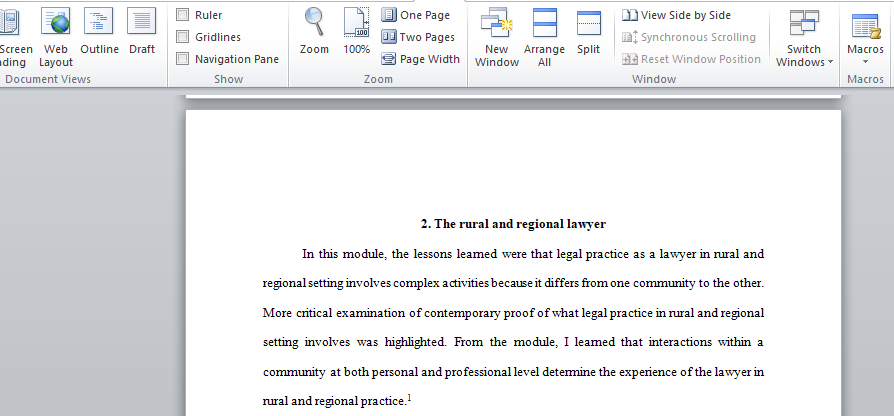 w0rds:3,600