Write a reflection on Business in Society
Read a WSJ (Wall Street Journal) article that reports on a topic related to corporate social responsibility and or is related to the week's textbook chapter reading.
Succinctly, write a critique of the article in this discussion forum.

The approximate length of a discussion forum response should be about 200 words, 20 lines.
Succinctly summarize the article that you have selected.
Write about the impact of what you have read on the triple bottom line (e.g., profit, people, planet).

Read and comment on two (2) additional student posts from this week.
Reply 1
Hello Class,
In light of the recent shooting in Atlanta, Georgia which resulted in the death of 8 Asian-American women, President Biden took affirmative action to meet with Asian-American leaders with efforts to ensure that minority groups are aware that the U.S. does not stand for hate crimes and justice will be served. Biden had the flags flown at half-staff outside federal buildings in honor of the victims killed. And he and Harris have publicly made statements regarding how the coronavirus should not be addressed (i.e., "China Virus") and raising awareness of how this hate crime spewed.
As it relates to CSR, this incident and the responses that follow just show that even countries operate as corporations. The President exercised his authority as a leader to address his responsibility for the safety of all citizens of the United States.
https://www.wsj.com/articles/biden-to-meet-asian-a…
Reply 2
Hey everyone,
The article for my discussion is "Finding Value in Corporate Social Purpose: The Role of the Board." This article tackles corporate social intent as more expansive than conventional CSR, including how core business positively influences the global economy, culture, and environment. In the past, corporations have undertaken philanthropic programs, including sponsorships, teamwork, and voluntary activities, and corporate foundation awards, through CSR units.
This article's intent, published in 2018, is yet to fully realize how corporate social purpose extends to include owners and staff, consumers, vendors, societies in which a company works, and the environment, expanding stakeholders' definition. It also includes taking short-term and long-term practical and responsible actions. Yet, it can be difficult to pursue social targets for U.S. enterprises, given that companies owe primary liability to shareholders under state corporations legislation.
This article's impact on the triple bottom line approach is to facilitate better target engagement for people, invest in innovative ideas that explore new models of technology to generative better and more greener outcomes for the planet, and improve operational efficiencies process. Companies with a good social strategy can improve staff commitment and recruit and maintain talent. Identifying underserved societal needs can be a potent engine of growth, allowing businesses to pursue new business possibilities and innovations. Operational efficiencies derived from adopting more competitive strategies have shown to save businesses up to 45% of costs, with hundreds of millions being saved annually by an ever-growing list of large firms. The engagement of CSR and its social priorities greatly influence society and the whole environment.
Reference
Finding Value in Corporate Social Purpose: The Role of the Board. https://deloitte.wsj.com/cfo/2018/08/17/finding-value-in-corporate-social-purpose-the-role-of-the-board/
Requirements: The approximate length of a discussion forum response should be about 200 words, 20 lines.   |   .doc file
Answer preview: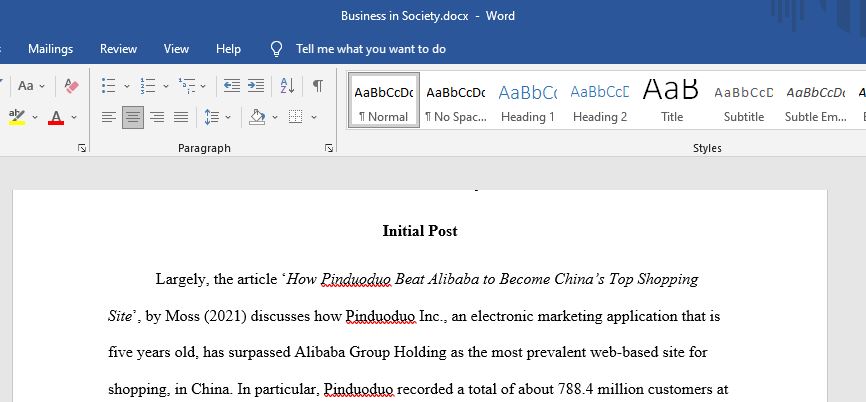 word limit:509