What is Norway doing to incentivize the switch to electric cars?
I have lived in Norway twice as an adult, and have witnessed the boom in electric vehicles along with their high gas taxes, congestion pricing and parking policies. Note that Norway has a population of about 5 million people, similar to the state of Oregon, with a few large population centers and a lot of rural areas where people are spread out, there is little public transportation, and it is cold. City walking, biking, and public transit infrastructure and daily commuting expectations are very different than in the cities, and all Norwegians love to get out into nature for hiking, skiing, and staying at their hytta (cabins) as much as possible, so their cars are still a necessity for recreation.
The graphic below gives you an update on electric vehicle adoption in different countries as of 2019. Read: Electric Cars Hit Record In Norway, Making Up Nearly 60 Percent Of Sales In March (NPR, 2019) (Links to an external site.). Note that this is just the percent of new car sales. It takes about 10 years for the whole vehicle fleet to turn over, so there are still many gas and diesel cars on the roads, but at a declining rate.
Think about the policies discussed in the article–what is Norway doing to incentivize the switch to electric cars, reducing GHG emissions, and would that work in the US? Why or why not (call on economics, facts, and values)? What would work in the US?
Requirements: Half page or so, single spaced   |   .doc file
Answer preview: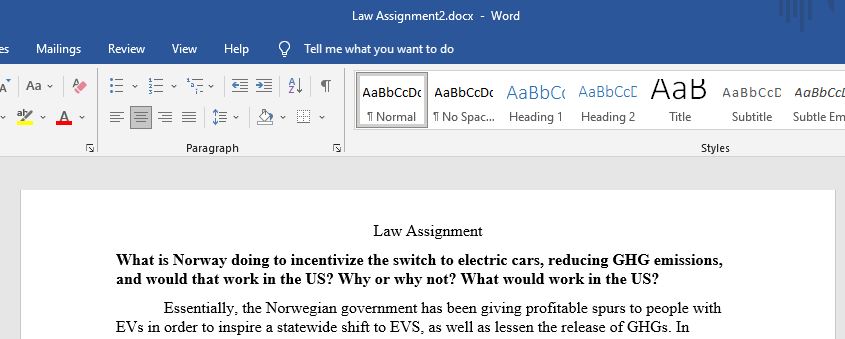 word limit:308