What is left to do for diverse workplaces?
Diversity is not simply a box to be checked; rather, it is an approach to business that unites ethical
management and high performance. Business leaders in the global economy recognize the benefits of a
diverse workforce and see it as an organizational strength, not as a mere slogan or a form of regulatory
compliance with the law. They recognize that diversity can enhance performance and drive innovation;
conversely, adhering to the traditional business practices of the past can cost them talented employees
and loyal customers.
You've likely heard a variation of the argument that companies with more diverse staff vis-a-vis
attracting, retaining, and developing professionals produce  better results for shareholders , or make
decisions better than their homogenous counterparts.
But, what's puzzling about everyone's obsession with the business case logic is that it's not working.
The  2020 Global Gender Gap  report by the World Economic Forum shows that at the current rate of
progress, Europe won't reach gender parity for 50 years, and it will take 100-150 years in North
America. We are even further behind on achieving racial equality. Studies show that rates of  hiring
discrimination against African Americans  haven't declined in 25 years.
It appears policies like workplace equity and affirmative action have stalled yet with rising social
movements in the ilk of Black Lives Matter and #MeToo we have just begun to open a dialogue for
equity, diversity, inclusion, and accessibility in organizations.
How might a human resource professional responsible for staffing a diverse workplace manage
these competing logics? Is there really a business case for diversity or do these policies
undermine meritocracy? How might it be possible to achieve gender and racial parity in our
lifetime? Be specific in your discussion and offer plausible suggestions (e.g., examples from
organizations, policies, and/or practices).
Your initial post (~400 )words)Source:  https://www.fastcompany.com/90462867/why-the-business-case-
for-diversity-isnt-working
Answer preview: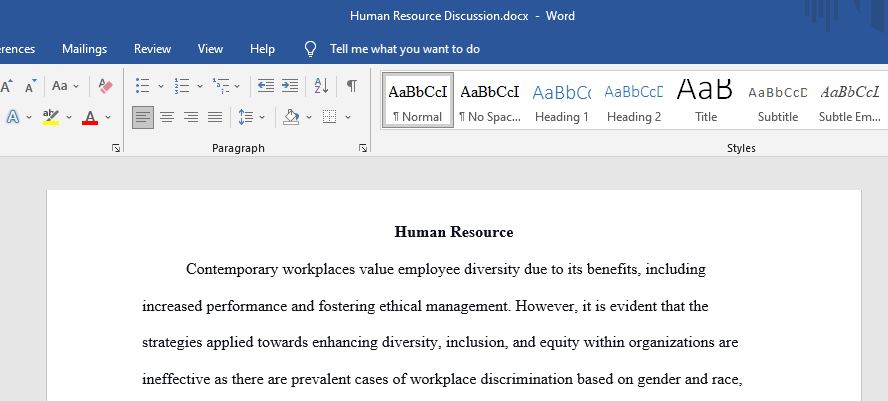 word limit:419