The importance of the act of reading
The importance of the act of reading
The question of the importance of reading is addressed by considering the ways in which experience itself is read through the interaction of the self and the world. Through examining memories of childhood, itis possible to view objects and experiences as texts, words, and letters and to see the growing awareness of the world as a kind of reading through which the self learns and changes. The actual act of reading literary texts is seen as part of a wider process of human development and growth based on understanding both one's own experience and the social world.
Learning to read must be seen as one aspect of the act of knowing and as a creative act. Reading the world thus precedes reading the word and writing a new text must be seen as one means of transforming the world.
The term précis refers to something that is "precise," a piece of writing that offers a short, concise, yet thorough account of the main arguments in a larger work. A précis is a brief summary meant to represent all of the fundamental, main points of an original work, omitting
details, and providing the reader a clear understanding of the primary area(s) of focus in the work being summarized. As such, composing a précis is an exercise in prioritization of points or arguments and constant refinement of prose. A précis indicates for your reader the extent of your
comprehension of a larger work, the level of your prioritization skills in terms of critically assessing a larger work, and your concision skills – the ways in which you are able to edit your own work and conform to a very limited word count.
For this assignment, you will compose a précis for either Antonio Gramsci's essay, "The Organisation of Education and Culture," or Paulo Freire's essay, "The Importance of the Act of Reading." You will ultimately use both pieces for your argument essay, bringing the twoscholars into conversation with one another.
Answer preview: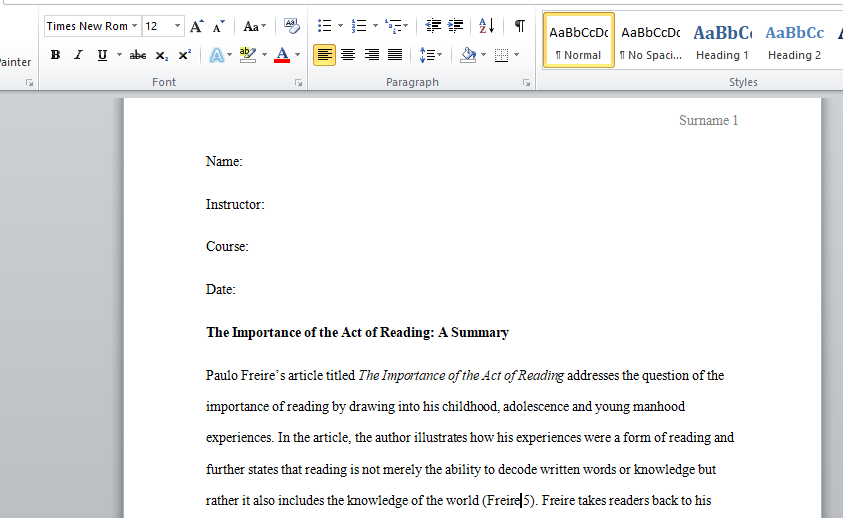 Words:619