Soap Note Ectopic Pregnancy
Make 1 complete soap noteTemple and the case will be provided. APA 6 ed required.
* 1 diagnostic and at least 3 differential Diagnostics. At least 3 references.
Requirements: as needed
This one is the Real Case.
Age:
35 years
Race:
Hispanic
Gender:
Female
Insurance:
Private insurance
Referral:
Physician
Clinical Information
Time with Patient:
45 minutes
Consult with Preceptor:
15 minutes
Type of Decision-Making:
Moderate complexity
Student Participation:
Shared (50-50)
Reason for Visit:
Episodic
Chief Complaint:
I have low abdominal pain and light bleeding
Encounter #:
1
Type of HP:
Problem Focused
Social Problems Addressed:
Safety
Emotional
Sexuality
Substance Abuse
Procedures/Skills (Observed/Assisted/Performed)
ICD-10 Diagnosis Codes
#1 –
O00.91 – UNSPECIFIED ECTOPIC PREGNANCY WITH INTRAUTERINE PREGNANCY
#2 –
Z00.00 – ENCNTR FOR GENERAL ADULT MEDICAL EXAM W/O ABNORMAL FINDINGS
CPT Billing Codes
#1 –
99203 – OFFICE/OP VISIT, NEW PT, MEDICALLY APPROPRIATE HX/EXAM; LOW LEVEL MED DECISION; 30-44 MIN
#2 –
2010F – VITAL SIGNS DOCUMENTED AND REVIEWED
#3 –
99071 – PATIENT EDUCATION MATERIALS PROVIDED BY PHYSICIAN/OTHER PROFESSIONAL
#4 –
76830 – ECHOGRAPHY, TRANSVAGINAL
Medications
# OTC Drugs taken regularly:
1
# Prescriptions currently prescribed:
0
# New/Refilled Prescriptions This Visit:
0
Types of New/Refilled Prescriptions This Visit:
Analgesic/Antipyretic – NSAIDS
Adherence Issues with Medications:
Complexity/demands of treatment
Denial of need
Knowledge deficit
Other Questions About This Case
Nutritional Status:
Good
Smoking Assessment:
Current Smoker
Trimester:
Patient's primary language:
Spanish
Ethnicity:
Spanic/latin
History of present illness (HPI):
Pt who comes today for lower abdominal pain and bleeding
Other current meds/herbals/vitamins:
no
TIme spent performing family assessment:
Blind :
Deaf:
Screen for drugs:
Yes
Screen for alcohol:
Yes
Homeless:
Religious practices affecting care:
Immunizations up to date:
Yes
Patient is non-ambulatory:
Patient is ambulatory:
Yes
Antepartum new:
Peri/postmenopausal visit:
Breastfeeding eval and counseling:
Early postpartum visit < 1 week:
Home birth:
Newborn assessment:
Clinical Notes
CC: I came today because I have abdominal pain and light bleeding.
HPI: 35 y/o female who comes today because she had positive pregnancy test results 2 weeks go and today she began with low abdominal pain and light bleeding. Pte denies nausea or vomit, no urinary problems, and no other complaints.
NKA
Medication use: No
Vital signs: BP: 130/72 HR 89 RR 18 temp 98.4
review of systems.
General: Un-remarkable.
HEEN: pt denies, visual, hearing, olfactory problems, no Thyroid problems.
Respiratory: Pt denies any symptoms.
Cardiovascular: Pt denies cardiac problems, No HTN, no vascular diseases.
ABdomen. Pt states spontaneous pain in the lower abdomen that is not radiated and which is not improved with the OTC medications.
GI: pt denies any oral or dental problems, no dysphagia, no abuse, no vomit, no constipation or diarrhea, no rectal bleeding.
Neurologic: Pt denies any headache or sensibility loos, no tremors or incoordination, no imbalance or double vision.
Physical exam: (positive)
Abdomen: Normal Bowel sound, No pain to the light palpation and inguinal pulse founds, deep palpation deferred because of the pt's symptoms and the personal history of the positive pregnancy test.
GU: normal external genitals and bleeding noticed coming through the vagina. A speculum is inserted and the cervix is open and bleeding noticed coming from the uterus. Bimanual palpation shows a wide uterus not related to the gestational age and a mass found to the right side to the uterus with pain to the movements.
Diag: Ectopic pregnancy.
Plan: Pelvic ultrasound was done and diagnostic confirmed and the pt was transferred to the ER for Dr urgent evaluation and further studies and treatments.
Answer preview: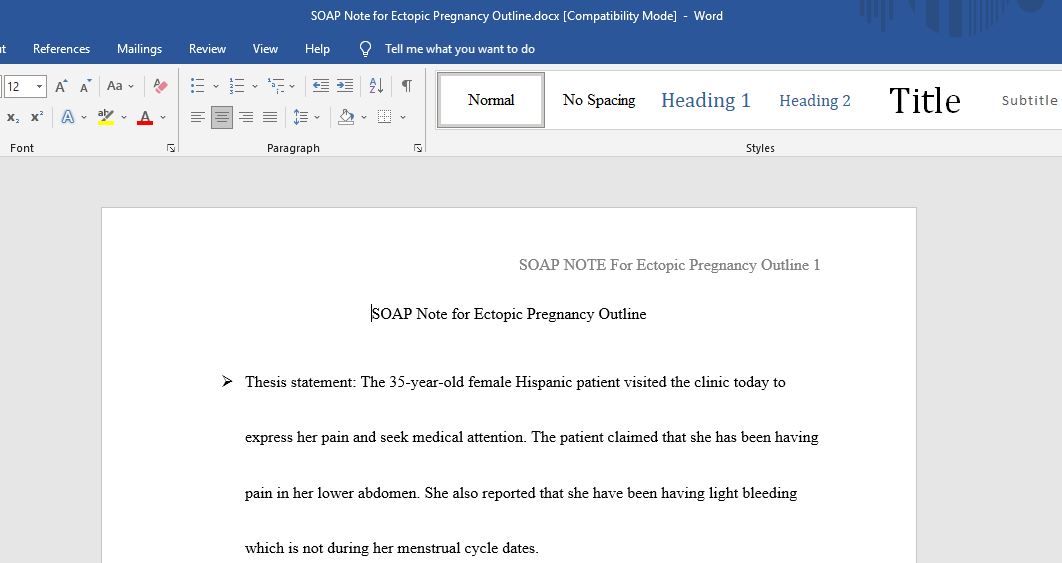 word limit:2000