The role of heterogeneous catalysts in the chemical industry
Topic:The role of heterogeneous catalysts in the chemical industry
The discussion should be developed and sustained in a logical manner over the entire answer and be well thought out, relevant and complete. You should have accurate and thorough critical analysis and evaluation of the material in your essay.
Information should be obtained from a range of mainly academic sources. Ensure the format is correct and complete.
How are you going to answer the question? You could explore a specific example(s) of heterogeneous catalysts in the chemical industry or contrast different catalysts for the same reaction. You could focus on some chemical aspects of catalysis e.g. specificity, efficiency of a heterogeneous catalyst, catalytic poisoning etc. You could focus on the development of a catalyst over time for a given chemical process.
Diagrams may be included to help explain concepts given in the writing (and should be referred to in the text). There should be some presentation and analysis of data relevant to your essay.
Try to connect your research to a wider context. The link between theory and practice should be cohesive, logical and complete. Remember the title is also about the chemical industry.
The focus of the essay is literature retrieval, analysis and communication of chemistry data in a relevant, creative and up-to-date context.
Diagrams and figures should be used.Referencing should use the NCUK Harvard style format. A minimum of six sources should be used. These must be good academic sources i.e. books or journals.
 "The role of heterogeneous catalysts in the chemical industry."
From iron in the manufacture of ammonia to vanadium(V) oxide in making sulfuric acid, heterogeneous catalysts play a hugely important role in the chemical industry.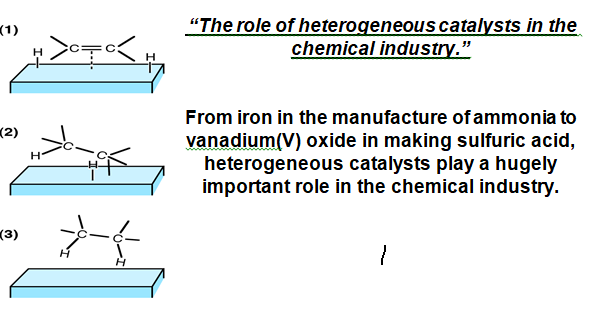 Answer preview:

Words: 1,897