Discuss risk assessment for paracetamol poisoning
Liver case – Drug toxicity
Risk assessment for paracetamol poisoning
Paracetamol poisoning is common and the treatment of the majority of acute overdoses is well-defined. However, risk
assessment and treatment of staggered or supratherapeutic ingestions, or ingestions involving slow-release preparations, may be complicated and advice can be obtained from a clinical toxicologist.
Case 2 Liver – Drug toxicity
Miss OD is a 23 year old female, who is a casual employee at Big W and presents to the ED with abdominal pain and nausea and vomiting. She had recently been to her GP for a chest infection for which she was prescribed a course of Augmentin Duo Forte® and advised to take paracetamol for her
fever. She also decided to take Codral Cold and Flu® tablets her flat mate had left over from a recent cold that she told her would be good for her cough and stuffy nose.
After 7 days she presented with a low-grade fever, nausea and vomiting and right upper quadrant pain. Bloods were taken for liver function tests and were found to be grossly elevated. A serum paracetamol level was requested along with other blood tests including glucose, urea and creatinine.
When questioned she admitted to taking paracetamol tablets regularly and the other tablets to help with her congestion and cough.
It was estimated that she had taken 6 to 8g of paracetamol daily for the past 5 to 7 days.
Answer preview: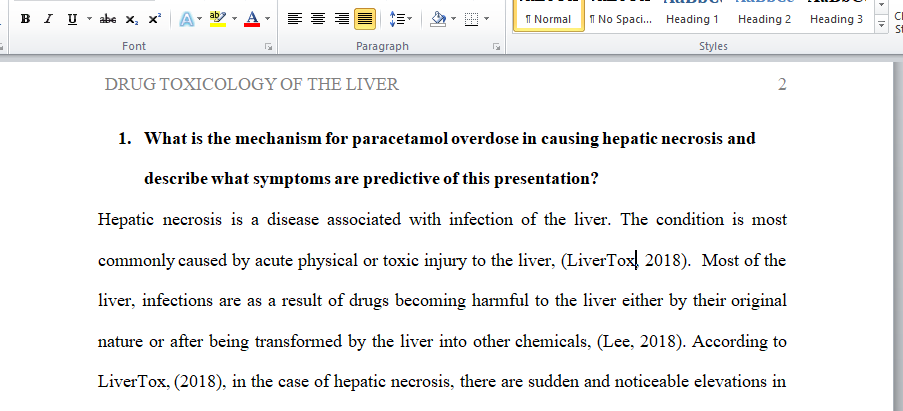 Words:1,447