Relate the Health and law in the two Case Study
Relate the Health and law in the two Case StudyCase study two:A newly register nurse (NRN) involved in drunk driving case, spent night in police custody and now commencing shift while have not completely recover from last night over drinking. There is lots of indicator that shows NRN misconduct. APHR Mandatory notifications guidelines for registered health practitioners 2014 s. 3.1 clearly explained about reporting any practitioner who is performing duties and found intoxicated with alcohol or drug, although intoxication in their private life is not required as it is their personal life so mandatory reporting does not apply on private life actions. s. 140 (a) of Health Practitioner Regulation National Law Act 2014 clearly state that health practitioner commencing duties under the influence of alcohol is a notifiable conduct. Professional misconduct is explained in s. 5 Health Practitioner Regulation National Law Act 2014 about the practitioner is a reasonable individual to hold registration or not. When NRN also tried to influence RN by not reporting the incident to NUM in s. 141 of Drug Misuse Act 1986 (Queensland) deals with criminal activities of drug and s. 144 of Queensland Health Practitioner Regulation National Law Act is about voluntary notification and when RN would report to NUM, the NUM could proceed this matter to the Health Ombudsman and could find out either this health practitioner is fit to hold registration under required standards. The NRN does want this to report to the higher authorities because NRN is hesitant to face the consequences. If failing to report, the RN might patient life in risk and could be the beginning of bigger harm, so conduct must have reported to licencing authority (APHRA) with appropriate complaint (Bismark et al 2014).
Nurses are responsible for looking after patient health. If a nurse would commence his duty while not physically or mentally fit for duties, there is strong possibility to make harm of patient. The aspects of legal, ethical and professional issues coated it is as higher risk to patient safety and quality of care (Kim 2016). Timely reporting is another factor I have to keep in mind, if my fellow RN who is intoxicated and I can feel that he is impaired for the duties before he went to wards and start involving himself into ward activity, from the law of mandatory reporting it is my responsibility to go to my NUM and inform that the RN about to commence his shift is actually not fit for job. It is essential for wellbeing and safety of patient (Staunton and Chiarella 2016). It is also important for overall dignity of nursing profession as one-person`s misconduct effect the universal shame for all nurses performing their duties with lots of affection. When media picks up these stories they do not discriminate as it was only an individual act, but they question the overall health care system that how a drunk nurse has entered into ward and nobody has notice or reported to the system in place (Kim 2016, Sally, Maggie and Jacquie 2016).
Ethical principle for this case study would be beneficence as if the intoxicated RN would commence his shift there is higher chances that to harm the patients and I would have to take step to prevent the harm. Nonmaleficence that do not harm it also include that do not waste resources which could be used for good. So, if another RN who is fit for duty would commence shift might be able to make positive difference in patient life (McDonald & Then 2014).
Deborah Sidwell was a RN in Sunday sun, Newcastle, UK. She was found guilty in 2010 on her act when snuck into changing room, mixed anti-depressants with bottle of sherry and gulp the whole bottle. She was not able to walk and talk. When she called NHS to cover her shift she was not able to finish a sentence as she has slurry speech. A conduct and competence committee find her guilty and put life time no condition of not working as health practitioner (Anon 2008).
Health practitioner's private life should be different from personal life as they have huge responsibility on shoulders to look after patient's health. If a health practitioner is going through any social or emotional distress, they should be either taking time off from work or should be strong enough to control their personal issues while at work. If a health practitioner would have found intoxicated there is high chance of lifelong removal from health profession.
When author was working in rural facility, one student nurse took patient neckless from drawer there is issue of honesty, trust and accountability.
Gallup annual report state, nursing is the most honest and ethical profession from all selected profession (Norman, 2016). Honesty, trust, accountability and professionalism are the most essential parts for developing concrete relationship between nurse and patient (Mary 2017). The trust among healthcare professional staff such as nurse and nurse manger are a basic component of good environment among staff, performing duties in better more effective way and contributing more positively towards patient health (McCabe and Sambrook 2013)
NMBA code of professional conduct for nurses in Australia 2018 conduct 8 nurses have an upper-hand between care receivers and nurses, it is the duty of nurse to maintain the trust given by patient, nurses have responsibility of safe and secure possessions and belongings of patient (NMBA 2008b).
Health ombudsman Act 2013  s. 80 deals with investigations on the matter to achieve objectives if the health service provider such as the facility raise complain about the student misconduct to APHRA and APHRA initiate investigation about complaint, Health ombudsman Act 2013 s. 84 provides progress report not less than 3 months to educational institute and related person, the investigation must complete investigation report in 1 year if not extended by s. 1(b). student nurse registration could be suspended immediately due to criminal activity and further action could be taken after the judgment passed on the case.
ASQHS could form commission by Public governance, performance, accountability (PGPA) Act 2013 s. 26 officers are obligated to perform their duties with honesty and good faith. American Nursing Association (ANA) press release 2016, declared nursing remained the number 1 most trusted profession, 15 years in row. It is due to the patient trust nurses for honest for their life. Nurses have liability from code of ethics and standard of practice to display their roll in ethical and trustworthy manner.
In this case study it is been identified that student nurse picked up neckless and kept it until, it was not being asked by RN, it shows criminal misconduct and we have examples when nurse picked up patient belonging with wrong intention and end up facing the court of law. I as RN will notify this act to my NUM who would act according to the hospital policy with informing the facilitator of the educational institute about the incident. University of the Sunshine Coast (USC) Student Placement Agreement clearly state that student should perform act which is outside of ethical and behavioural misconduct and USC keeps full authority to either student removal from placement or cancellation of enrolment and notify to APHRA due to unethical misconduct by student. S. 92 of Health Practitioner Regulation National Law Act could be implement for suspension of student nurse.
Ethical principle such as beneficence is being breached here and student nurse should not touch any belongings of patient with wrong intention. Non-maleficence is not harming patient, it includes the financially harming patient, nurses has duty to look after the patient rather than harming them by stealing from them. Justice patient has full right of justice so if one nurse notices any misconduct must report to the NUM (McDonald & Then 2014).
Danielle Louise Skobe was employed in Hervey Bay age care centre where she was found guilty of stealing $23,700 from 81-year-old patient. Danielle was a nurse from last 10 years and according to her defence she needed money but was not able to make extra money even she tried to cover extra shifts. One day she found patient card with pin code in patient`s drawer, Danielle took card and withdraw $23,700 over the period of 2 months and in 29 transactions. The magistrate found that it is a criminal attempt and give 2 years sentence to Danielle and lifelong retraction from nursing profession (Anon 2010).
Evidence shows that when nurse do any financial misconduct, it is presented in front of the accountability court and it could end up sending nurse into sentenced. Facility could decide that how far the incident should be going as RN has recover the neckless from student nurse and have placed into patient locker. This incident gives a big question towards student nurse behaviour for future practice because if someone has habit of stealing other people belonging it might continue in future. Along with, if student nurse would be told that do not worry it is human error, it might encourage student nurse to keep doing it in future as there is no punishment for these misconducts. The student must be immediately withdrawn from the ward. It shows the implementation of accountability system and would uphold the trust and honesty among the team. A written warning could be given, and placement could be delayed until next term.
All three case scenarios helped me in tighten my grip on legislations, laws, act, codes of ethics, standards and mandatory reporting. It is also very helpful for future practice as I know the role, responsibilities and duties of RN and the consequences of any misconduct. At my workplace I could perform in a better way because I know my moral, ethical and legal boundaries. It will also help me to feel gut to report any incident because I know that law covers me if I report for any misconduct. This experience would made me more attentive and aware to perform my duties in the best interest of my patient.
Answer preview: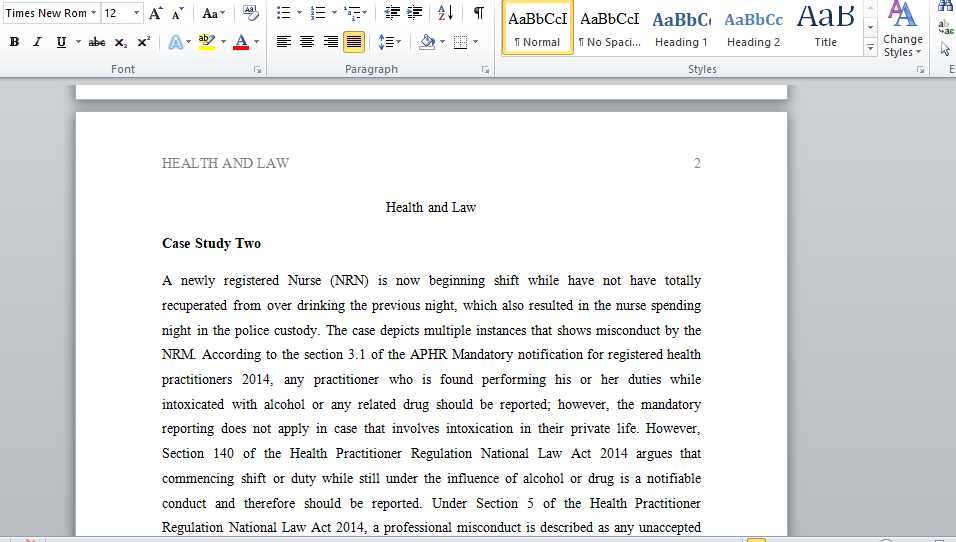 Words:1814