Knowledge Assignment: Alarm Fatigue
Alarms are intended to alert caregivers of potential patient problems. But if alarms are not properly managed, they can compromise patient safety.
After completing the assigned readings:
Respond in one strategy per level.
Develop one alarm management and patient safety strategies for each of the following levels of care:

Organizational
Unit
Individual caregiver

Review the rubric for more information on how your assignment will be graded.
Please explore the website to write the paper:
Cho, O. M., Kim, H., Lee, Y. W., & Cho, I. (2016). Clinical alarms in intensive care units: Perceived obstacles of alarm management and alarm fatigue in nurses. Healthcare Informatics Research, 22(1), 46–53. https://www.ncbi.nlm.nih.gov/pmc/articles/PMC47560…
The Joint Commission. (2013). Sentinel event alert issue 50: Medical device alarm safety in hospitals. Retrieved from https://www.jointcommission.org/sea_issue_50/
The Joint Commission. (2013). Alarm system safety. R3 Report, 5, 1–3. Retrieved from https://www.jointcommission.org/assets/1/18/R3_Rep…
The Joint Commission. (2011). Sound the alarm: Managing physiologic monitoring systems. The Joint Commission Perspectives on Patient Safety, 11(12), 6–8, 11. https://www.jointcommission.org/assets/1/6/Perspec…
Kinghorn, K. A. (2015). Addressing the problem of alarm fatigue: Enhancing patient safety through cardiac alarm customization (Master's thesis). Retrieved from http://repository.usfca.edu/cgi/viewcontent.cgi?ar…
Plotnick, B. (2018). The best smartphone decibel meter apps to measure noise levels. Retrieved from https://www.healthyhearing.com/report/47805-The-be…
Sendelbach, S., & Funk, M. (2013). Alarm fatigue: A patient safety concern. AACN Advanced Critical Care, 24(4), 378–386. Retrieved from http://www.nursingcenter.com/pdfjournal?AID=161713…
Stokowski, L. A. (2014). Time to battle alarm fatigue. Medscape. Retrieved from https://www.medscape.com/viewarticle/820738
Please see attached rubric. Let me know if you have questions
Answer preview: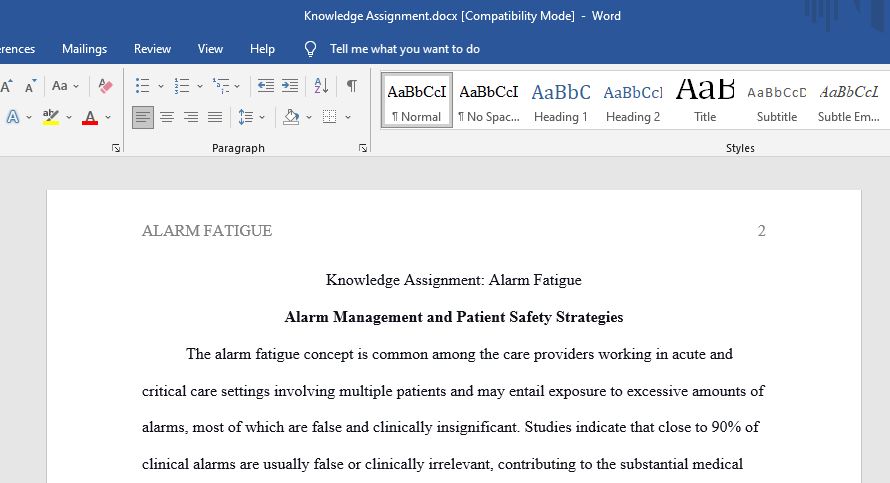 word limit:506