Discuss causes and effects of power inequality
English 100 midterm paper proposal
Over the entire semester we gone through, I would like to expand the essay about "equality". (hook's explanation of feminisms, the causes and effects of power inequality) As an African born Chinese, I personally not only been through but observed many uneven treatments in my life including unequal treatments towards gender, culture, ages and disabilities etc. I wish to use sources from the in class articles about feminist and story of my own including Chinese cultures.
It seems like an equal world, man and woman all going to work and having the same rights. However, beneath the happy layer of virtual truth hides the invisible law that restricts people's moral conscience towards what is right. Women living in a society that there are no right way of being a mother, and Negros suffering the pain of being discriminated during every task. Our world has been breaking into pieces, while we created these rules.
Introduction
In this day and age man and woman, white and black, old and young has been drawn a line in between. Which raises the public awareness of the
issue that whether racism, sexism etc .are really embedded in peoples mind. Numerous claims have been made that the vulnerable groups has been making a mountain out of a mole hole. I nevertheless, reject this nation and instead claim that these groups are only claiming for equality for the following reasons
 Gurellia blog and feminist article as support
 Self childhood of being an African Born Chinese
 History culture brain was of the tang dynasty
 Conclusion paragraph
Answer preview: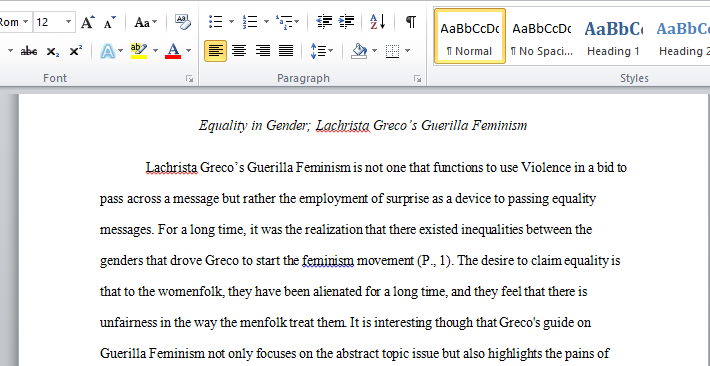 Words: 1,260