Discuss the Strategies for Reimbursement and Utilization Management
Accountable care organizations (ACOs) are designed to promote value and quality in health care. They use new payment and delivery models that include incentives to improve care coordination and utilization management. With these models, ACOs contract with private insurers and/or Medicare to receive reimbursement, and then the ACO determines how to contract with physicians and other medical providers to provide health care services to patients. Since not all providers are direct employees of ACOs, there are potential challenges with reimbursing the affiliated providers in a way to maximize efficiency, increase quality, and lower utilization. For this Discussion, examine the following scenario and recommend strategies for reimbursement and utilization management.
Scenario:
Medicare and private payers have expanded reimbursement under Accountable care organizations (ACO). You are the chief financial officer (CFO) of a hospital system that is forming an ACO to participate in these payment models. The ACO seeks to improve care coordination for its patients with chronic conditions. To provide better care management, the ACO is interested in investing in primary care physicians and physician's assistants to provide more intensive care management services. After formation, the ACO will enter contracts with Medicare and private insurers under alternative payment models, including shared savings, bundled payments, and global capitation. The ACO will need to determine how to set up reimbursement payments to ACO providers and consider whether financial incentives are required to ensure ACO providers deliver efficient care.
To prepare for this Discussion:
Read the provided scenario.
Consider strategies for reimbursement and utilization management, including financial incentives.
How might you set up the reimbursement payments to ACO providers, considering the alternative payment models (i.e., fee for service, shared savings, bundled payments, or global capitations)?
What utilization management controls might you add to align the interests of ACO providers?
By Day 3
Post a cohesive response to the following:
As the CFO of the ACO in the provided scenario, recommend strategies for reimbursement and utilization management. Defend your recommendations.
Support your response by identifying and explaining key points and/or examples presented in the Learning Resources.
https://www.nihcm.org/pdf/Meeting-the-demand-for-primary-care-nurse-practitioners-answer-the-call-John-Iglehart-Expert-Voices-10-2014.pdf
http://www.nejm.org/doi/full/10.1056/NEJMp1502312
Answer preview: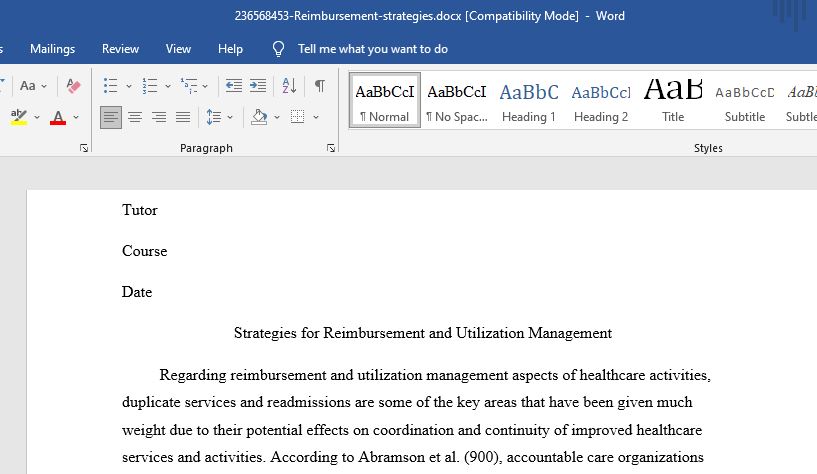 Words:419