Discuss the application of corporate law
Discuss the application of corporate law.Terence studies jewellery design at Charles Sturt University. After he graduates, he sets up a business called 'Terry's Terrific Designs'. He employs Peter and Sara, who are also CSU graduates to work for him. Peter is appointed as Supplies Purchaser and Sara as a Designer. Sara shares the design work with Terence himself. Give Terence advice in relation to the following situations, citing relevant legal authority: Sara visits Gabby, who wants a brooch designed for her. Sara shows Gabby photos of a number of designs that she (Sara) has executed. Sara forgets to tell Gabby that she works for Terence. Gabby is impressed by Sara's work, and asks her to design a $ 1 000 brooch in the shape of an elephant. On the next day, Terence phones Gabby and says 'I have received your order, and will finish the brooch within two weeks'. Gabby says 'Who are you? I have a contract with Sara'. Terence tells Peter that the business is over-supplied with gold, and that he should buy only silver. However Peter is having a drink with Mary, a gold dealer who he has often dealt with before on behalf of Terry's Terrific Designs, who offers to sell 50 grams of gold for $ 1 500, which is a very good price. Peter agrees to buy the gold on behalf of Terence, but when Mary arrives at Terence's shop with the gold asking for the $ 1 500, Terence refuses to accept the gold or pay her. Because Peter disobeyed his instruction not to buy gold, Terence fires him on Monday. However Terence does not shut off Peter's access to the business' email system until Thursday.
On Friday Terence is contacted by Gordon, a diamond seller who Peter had regularly dealt with on behalf of Terence. Gordon says that saying that on Tuesday Peter sent him an email ordering a $ 5 000 diamond on behalf of the jewellery business, which he
(Peter) picked up on Wednesday. Peter has disappeared to South America and is untraceable. Gordon is demanding to be paid. Question 2 (10 marks) Roger Smith owns 92 of the 100 shares in United Chemicals Pty Ltd, a company he registered in 2009. The Company Secretary is his wife, Mary, who owns the remaining 8 shares. They elect Timothy Smith, Roger's brother, as Managing Director of United Chemicals Ltd. In 2015 the company bought a phosphate processing machine from Industrial Machines Ltd for $ 600 000, payable in three equal instalments in 2015, 2016 and 2017. The contract was in writing and signed by Roger as follows:  Timothy Smith Managing Director For and on behalf of United Chemicals Pty Ltd
Business goes well in 2015 and 2016, and the company is easily able to pay the instalments, but in 2017 a sudden downturn in the agricultural sector causes sales of fertiliser to drop off, and United Chemicals finds that it cannot pay the final $ 200 000 instalment. Roger has received a letter from Industrial Machines suing him personally for the $ 200 000, as the board of Industrial Machines knows that he is wealthy. One of the steps Roger took in early 2016 to try to improve his business fortunes was to see if he could expand into the area of making explosives.
However, Commonwealth legislation prohibits the granting of an explosive manufacturing licence to 'any person who has a criminal conviction'. Roger was convicted of theft in 2005. Roger establishes another company, Explosive Industries Pty Ltd, of which he owns 99 shares and his wife 1 share, with himself as Managing Director and his wife as Company Secretary. He asks Mary to lodge an application for a licence on behalf of Explosive Industries Pty Ltd with the Commonwealth Department of Industry. The Department has sent a letter declining the application, citing the legislation regarding prior criminal convictions as its reason. Advise Roger in relation to the claim made by Industrial Machines Ltd and the decision by the Department of Industry, citing relevant law. **Please check that your assignment complies with the rules in the Style Guide before you hand it in.**
Answer preview: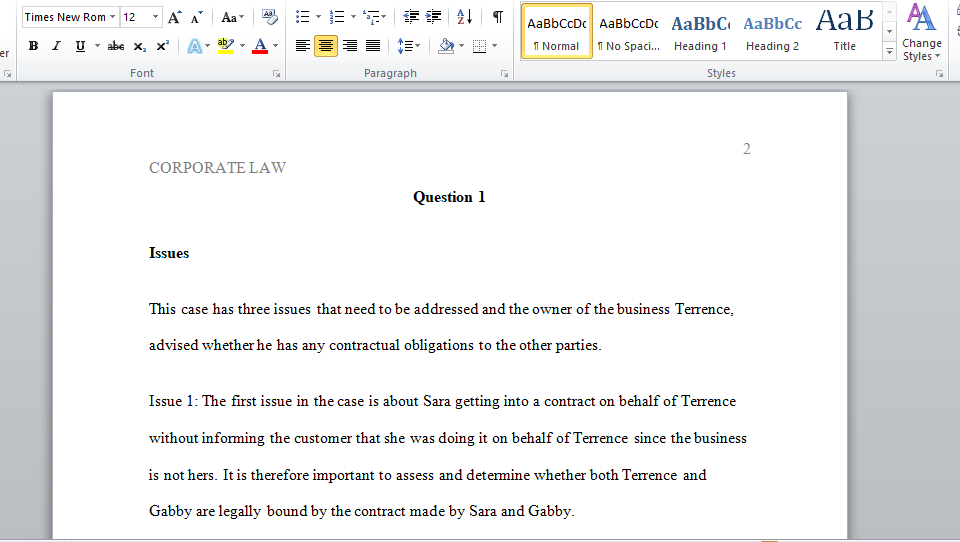 Words:1863