Discuss Project Management approaches in Health Services Organizations
Project Management Approaches in Health Services Organizations
Consider the following scenario:
Ryan is a heath care administrator for a large network of hospitals. As its mission, the hospital network seeks to promote health access in underserved communities and to engage in innovative population health management projects to support evidence-based practice. While both tenets of the hospital network's mission are vast, Ryan is responsible for ensuring that each individual hospital within the network is achieving measurable goals for ongoing performance. In evaluating each hospital individually, Ryan finds that the majority of the hospitals are performing at a superior level in increasing health access in underserved communities. However, Ryan also finds that the majority of the hospitals are not demonstrating superior performance with ongoing population health management. Ryan has organized a task force to better determine new strategies to balance the two in hopes of moving the hospital network forward in the marketplace.
Health care administrators face many challenges when implementing strategies for and approaches to addressing multiple projects and the scope of health care delivery on a day-to-day basis. In upholding the mission of an HSO, health care administrators must also ensure that each project contributes to effectiveness without hindering or compromising performance. What approaches might health care administrators use to ensure that projects are appropriately managed? How might project management approaches differ among projects that aim to enhance performance for the HSO?
For this Discussion, consider the different types of project management approaches introduced in the Learning Resources for this week. Then, reflect on how you might implement these project management approaches as a current or future health care administrator. Consider how different project management approaches are more appropriate for some projects versus others in contributing to the value of an HSO.
2-pages
2 pages description of which types of project management approaches are used by your HSO or an HSO with which you are familiar. Then, explain the strengths and weaknesses of using these types of project management approaches in contributing value to the organization. Be specific and provide examples.
Additional Resources
Longest, B. B., & Darr, K. J. (2014). Managing health services organizations and systems (6th ed.). Baltimore, MD: Health Professions Press.
Chapter 11, "Controlling and Allocating Resources" (pp. 558–569)
Schwalbe, K., & Furlong, D. (2013). Healthcare project management. Minneapolis, MN: Schwalbe.
Chapter 1, "An Introduction to Project, Program, and Portfolio Management in Healthcare" (pp. 1–39)
https://www.sciencedirect.com/science/article/abs/pii/S0263786313000884?via%3Dihub
https://oce-ovid-com.ezp.waldenulibrary.org/article/00004010-201401000-00004/HTML
Answer preview :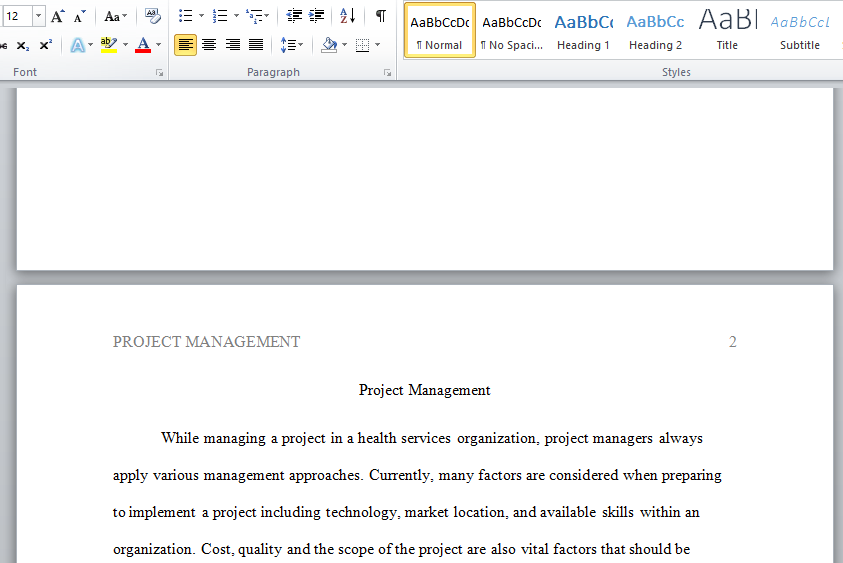 Word limit : 588 words