Explain communication strategies and conflict resolution strategies for teams
Preparation
Use the Capella library and the Internet to research examples of inter professional team charters,
communication strategies
and conflict resolution strategies for teams, and methods and technologies used in
team communication
.
Requirements
You have been charged with facilitating the launch of an inter professional team that will work together on a number of challenging cases. The team members will come from several different areas within the organization. The team is expected to have its orientation meeting in two weeks and then work together collaboratively for the next six months.
Your first task is to develop recommendations for a team charter that will help the group establish ground rules and decide who will lead the team. You also need to help the team with communication and collaboration strategies. This assessment has two distinct sections: Team Charter recommendations and communication and collaboration strategies. Provide thorough and detailed recommendations and support your recommendations using examples, references, and citations from your research.
For the Team Charter Recommendations:
Explain methods to establish ground rules and set expectations. How might differences in personality, expectations, and experience affect team efficiency? Describe conflict resolution strategies for inter professional teams. Identify effective ways to address issues of team leadership. How will the team decide who will lead them? What happens if the team leader is ineffective? For the Communication and Collaboration Strategies:
Describe best practices for effective inter professional collaboration. What types of technology can be used to support collaboration? Explain the benefits and limitations of different communication strategies such as e-mail, text, voice mail, and face-to-face. When is it appropriate to use each type of communication?
Answer preview: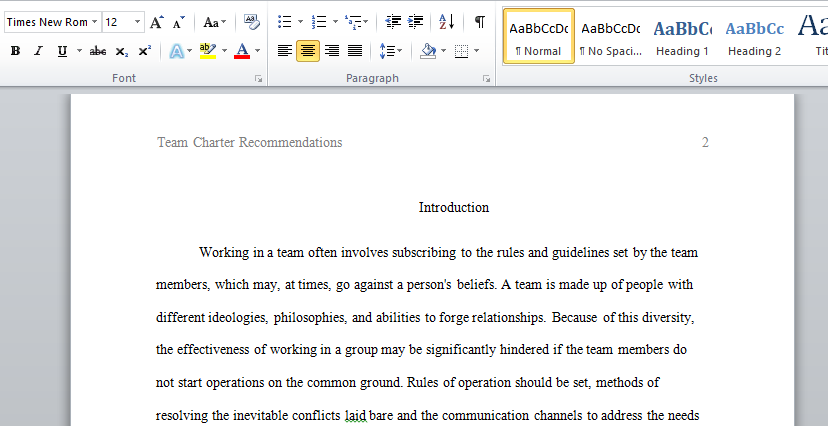 Words: 1,034