Analyzing Anti-Trafficking Organizations
There are multiple anti-trafficking organizations in the United States (U.S.). One of the most widely recognized is the Polaris Project (2012), now simply referred to as Polaris. Polaris is a leader in the global fight to eradicate modern slavery. Named after the North Star that guided slaves to freedom in the U.S., Polaris systemically disrupts the human trafficking networks that rob human beings of their lives and their freedom. Their comprehensive model puts victims at the center of what they do – helping survivors restore their freedom, preventing more victims, and leveraging data and technology to pursue traffickers wherever they operate (Polaris, 2012).
Shared Hope International (n.d.) is another respected anti-trafficking organization in the U.S. Shared Hope International strives to prevent the conditions that foster sex trafficking, restore victims of sex slavery, and bring justice to vulnerable women and children. They strive to bring about a world passionately opposed to sex trafficking and a community committed to restoring survivors to lives of purpose, value, and choice – one life at a time (Shared Hope, n.d.).
One of the main features of the organization is its contribution to policy research and resources. Each state within the United States receives a "report card" based on that state's anti-trafficking legislation from Shared Hope (n.d.). The information allows one to easily compare laws and "grades" state-by-state.
Upon successful completion of this discussion, you will be able to:
Tell someone the National Human Trafficking hotline number
Identify the number of calls that came into the Hotline center for your state last year
Review anti-trafficking legislation for your state
Evaluate victim/survivor issues as it related to legislation
Resources
Website: Polaris Project
Website: Shared Hope International
Instructions
Review the rubric to make sure you understand the criteria for earning your grade.
Review the Polaris Project and Shared Hope International websites.
Navigate to the discussion thread and provide answers to the following:

Identify the number of calls that came into the National Human Trafficking Hotline for your state in the most recent year published. Was that an increase or decrease from the previous year? Does this number surprise you? Why or why not?
Cite the national human trafficking hotline number in your post. It is recommended you commit this number to memory.
Review the report card grade for your state on the Shared Hope website. What grade did your state receive? Do you see an area in your state's anti-trafficking legislation that is weak? If so, what is it and how could it be improved? How does this legislation impact human trafficking victims and/or survivors? Identify a new area of learning related to reviewing your state's grade (be sure to list what state you are reviewing in your post).
Answer preview: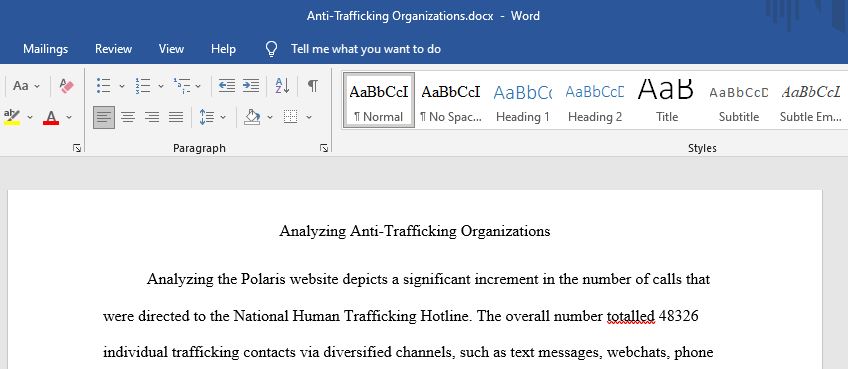 word limit:318